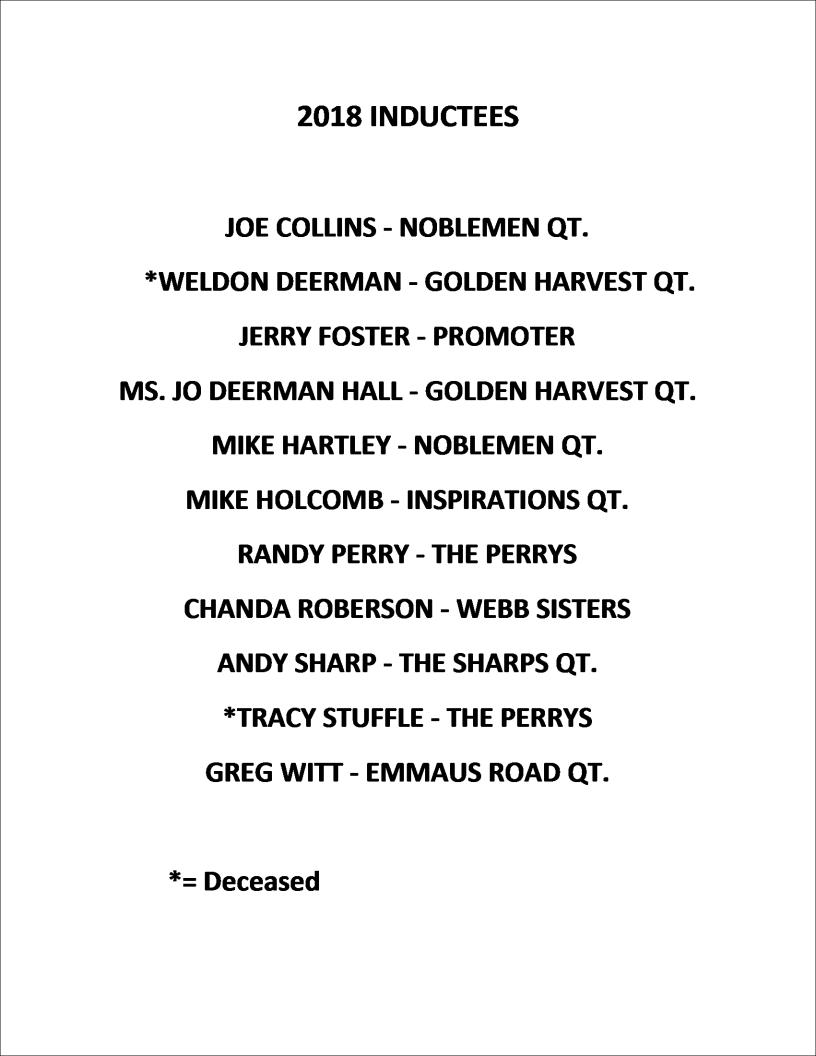 2018 Tri-State Gospel Music Hall of Fame Ceremony
2018 INDUCTEES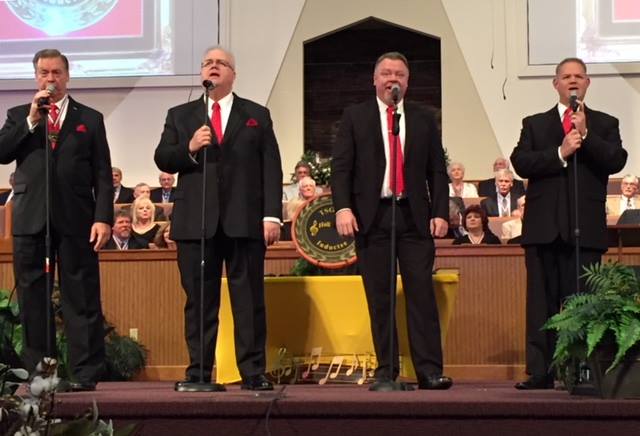 OLD TIME PREACHERS QUARTET...2018 TRI-STATE GOSPEL MUSIC HALL OF FAME INDUCTION CEREMONY SPECIAL GUEST...
2018 TRI-STATE GOSPEL MUSIC HALL OF FAME INDUCTION CEREMONY...
TRI-STATE GOSPEL MUSIC HALL OF FAME CALVIN NEWTON SINGS ... I'M STILL ON MY WAY WRITTEN BY TSGMA HOF RONNIE MCJUNKIN....
HOME SHOPPING NETWORK TODAY'S SPECIAL VALUE.., PEGGY ROACK, DONNA BRANHAM, MARCIA HUGHES, RAY BRANHAM..THE BLOOD WILL NEVER LOSE IT'S POWER POWER IN THE BLOOD
RONNIE MCJUNKIN..GRANNY'S SPECIAL PRAYING PLACE..SONG WRITER RONNIE MCJUNKIN
TSGMA HOF CHOIR..WHAT A DAY THAT WILL BE..TO HONOR ALL OUR DECEASED MEMBERS AND INCLUDE THE 2018 DECEASED (BILL CURTIS, NELSON RICHARDSON, TIM COOPER, WELDON COTTON DEERMAN AND TRACY STUFFLE
TSGMA HOF CHOIR.. WHAT A MEETING IN THE AIR..TSGMA HOF THEME SONG..
CCC CAMP CRACKERBARREL CHORD COMPANY SCRAPIRON QUARTET....BRAD HARRIS, DALE CRAWFORD, LONNIE SATTERFIELD, ALAN BREWSTER, AND CURTIS BROADWAY.... I CAN TELL YOU NOW THE TIME
THREE FOR THEE CAROLYN BRADFORD LANE, ROBIN ELDER SILON, ALLISON ELDER BARRON....
TSGMA HOF CHOIR...I'VE GOT THAT OLD TIME RELIGION IN MY HEART
OLD KIDS ON THE BLOCK, PHIL CHESNEY, HENRY POTTER, LOWELL BLEVINS, DAVID DENNIS, PHILIP HARE I'M BOUND FOR THAT CITY
PIANO DUET SPECIAL...TSGMA HOF SUE GRAY AND JACK CLARK..GOODBYE WORLD GOODBYE
TSGMA HOF CHOIR..LEANING ON THE EVERLASTING ARMS …. WRITTEN BY TSGMA HOF A.J. SHOWALTER...
LAKE WINNIE WINTERTIME QUARTET.. STEPHEN ROBERTS, JOHN BRADFORD, RON SATTERFIELD, LEBRON ELLER, SUE GRAY,WHERE COULD I GO
GRANDMA'S BOYS SCRAPIRON QT. PHILIP HARE, RON SATERFIELD, GEORGE BYRD, LEBRON ELLER, MIKE KEY..I'M NOT GIVING UP
WHITEY AND THE WALLYWORLD QUARTET.. LEVON WHITEY CANTRELL, BLAIR CANTRELL, BILL INGRAM, DAVID DENNIS, JACK CLARK..I WANT TO BE MORE LIKE JESUS EVERYDAY
ROCK CITY BARN PAINTERS QT....LEON EAST, F.D. ROBERTS, JOHN RICHARDSON, JACK ROWAN, ED WILSON...WHERE COULD I GO
THE ORIGINAL GREESONS..KAREN GREESON DEMASTUS, ELON GREESON, LISA GREESON BOOTH, HERSHELL GREESON..
SOCIAL SECURITY SCRAPIRON QUARTET..DAVID PATTERSON, DON ROBINSON, SAM CAPPS, RALPH KEEFE, SHEILA PATTERSON...NEVER GROW OLD
WALKER STATE PRISON BREAK SCRAPIRON QUARTET..NANCY WILSON, DON ROBINSON, RAYMOND MASSEY, JACK ROWAN, ED WILSON..HOW BEAUTIFUL HEAVEN MUST BE